STOP TALKING ABOUT IT and ACT NOW! Remember that beaded jewelry you admire so much on Instagram? The event planning and decoration skills you wish you had? Or the graphic design training your friend told you about and you could not afford to go for it because you were unable to fund it? Or you are just at a point in life where you are flat and you need some motivational booster to help you leave your comfort zone and move towards your divine purpose?
Guess what? You can get ALL these and much more FREE at the upcoming DiligentHands International 2016 Annual Conference coming up on April 02, 2016. DHI is a non-governmental Organization that is committed to self-development, skill acquisition, talent discovery and development, empowerment projects for men and women. DHI was born to make a positive landmark  impact in the lives of people and anyone who is looking to improve and live a fulfilled and purposeful life.
Conference Theme : The Price for the Prize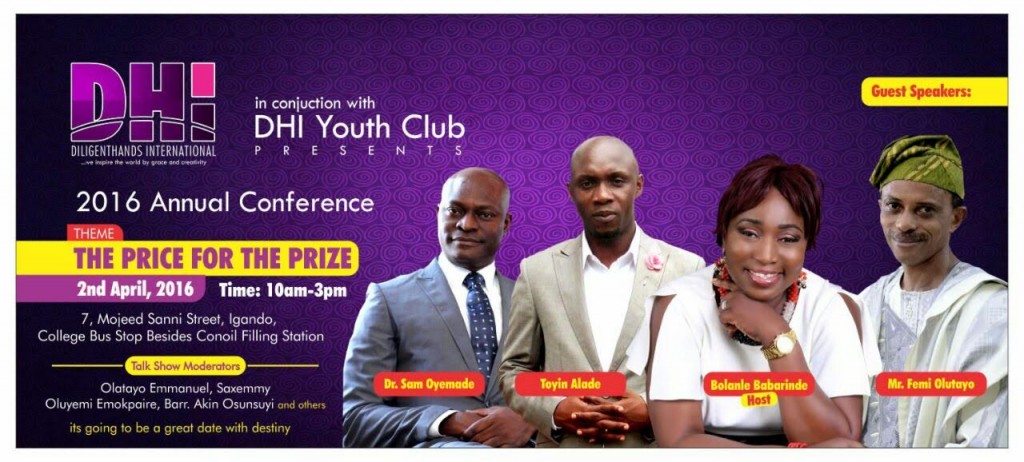 Sessions to look out for:
Talent discovery- The way out of mediocrity

The Art of Public Speaking, a must for professional speakers

How branding right is essential for strategic planning and marketing

How to find the right partner….The price to pay

Parenting- How to raise Godly children in today's world

Talk Show- Professionals discussing and solving the issues of life

Free Skill acquisition workshops in: – Event planning and decorations; Beaded jewelry making; Customized card making; Graphic designing; Career talks in law, medicine, accounting
Professional Speakers and Trainers for the day: 
Dr. Sam Oyemade: Chartered  Accountant, Managing Partner Sam Oyemade & Co

Mrs Bolanle Babarinde- Founder & President DHI; M. Ed. Education Administration and Planning

Mr. Femi Olutayo, Bsc. Administration and Marketing, Business Exec. London

Mr Toyin Alade- Bsc. Human Resources Management, Certified Project Manager; Professional Diploma in Digital Marketing, Certified Safety Professional
Date, Time & Address:
April 02, 2016;

10:00 AM- 3:00 PM;

#7, Mojeed Sanni Street, (By College Bus Stop, besides Conoil Filling Station), Igondo; Lagos State, Nigeria 
FREE REFRESHMENTS!!!!!!
This is a conference you don't want to miss. Great opportunity to develop yourself….ALL FREE.
MAKE SURE YOU ARE THERE!!!!!!
Don't keep this information to yourself. Share on social media using the buttons below…
And BRING A FRIEND!!!!
SUBSCRIBE TO TOLUSWORLD.COM SO YOU DON'T MISS MY FUTURE POSTS.
USE THE SUBSCRIPTION BOX ON YOUR SCREEN
Tolusworld Profile- Tolu Dairo MD. MSc.  A motivational speaker and writer who uses her passion for career/self-development, positive parenting and healthy relationships to inspire women to live their dreams.
Contact: Email: tolusworld@gmail.com"